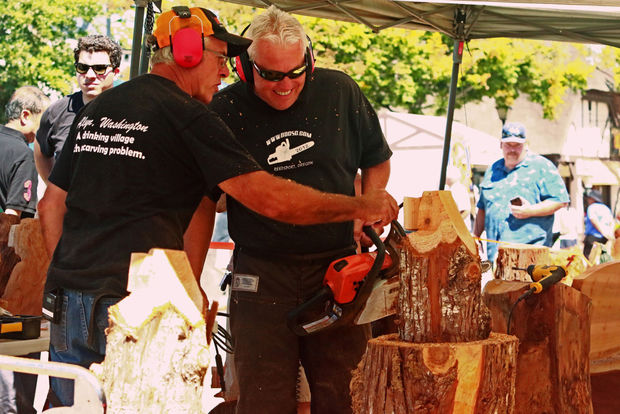 The hosts of the TV show "Small Town Big Deal" thought Solvang Danish Days was an event custom-made for their series, so they spent the weekend in the the so-called "Danish capital of America" participating in and filming a variety of activities.
Rodney Miller and Jann Carl and their crew were front and center throughout Danish Days, with Miller even trying his hand at chainsaw carving under the tutelage of George Kenny.
"I carved a bear and it almost looked like one," Miller joked.
"Small Town Big Deal," now in its fourth season, travels the country highlighting the most fascinating small communities.
"It's a love letter to America," Carl said. "It's a show that celebrates America. We seek out cool events. Danish Days fit right in for us. I love that everybody goes all in. Every time we turned around, there was another Danish Maid. I loved the aebleskiver breakfast and the Viking encampment was fascinating."
"Small Town Big Deal" airs on the RFD-TV cable network, seen on Channel 345 on DirecTV and Channel 231 on Dish TV. The Solvang Danish Days episode is scheduled for Dec. 10.
KSBY, the NBC affiliate on the Central Coast, began broadcasting the series in early September. The Solvang episode will air early next year. Episodes can also be watched on the show's website at www.smalltownbigdeal.com.