We at Small Town Big Deal would like to introduce you to our new partner GoServ Global. We are very excited to help spread GoServ's faith-based mission of bringing hope and help to people in need around the world and here at home. Small Town Big Deal has always believed in the power of community to change the world for good. Over the years we have highlighted stories of goodness every week on our show.
Rodney and Jann hope you will join them in supporting the life changing work that GoServ Global brings to communities affected by disaster. Click this link below to learn more about GoServ and help by making a gift today.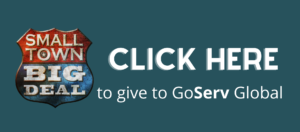 We believe what you watch on TV should lift you up, not bring you down.
That's why we started Small Town Big Deal!
Currently viewed by nearly 500,000 viewers across America every week
Broadcast on more than 300 television stations here in the U.S.
10+ years, of telling stories of goodness by our experienced and heart-filled team
Our viewers have been inspired by stories of ordinary people doing extraordinary things
All of us at Small Town Big Deal support the creation of uplifting television and media and support Voice of Goodness.
Thank you to Our Partners!
We have incredible partnerships with amazing American companies that help make Small Town Big Deal possible.  Please click on their logos and support our Partners who support us.
Check out our PARTNERS page to see some of the truly wonderful stories they have inspired.