Meet Our Hosts Rodney and Jann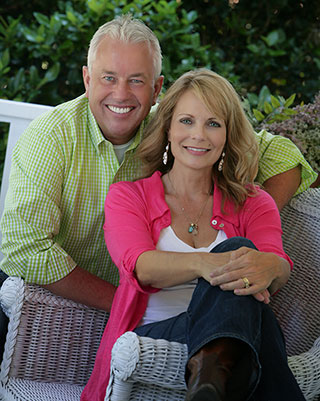 Rodney Miller has a true passion for shining the spotlight on the amazing and inspiring things going on in our small towns and farm communities, and in 2005 he had an idea for a TV show to bring those stories to the world. And he went on to turn that idea into reality.
Small Town Big Deal originally aired on cable station RFD-TV, where it grew into one of that station's most popularly rated programs. With its broadcast syndication in markets from New York and Atlanta to Philadelphia and Dallas, the show now reaches over three-fourths of the nation. It airs in the majority of U.S. major TV markets and on over 300 local stations.
Along the way to becoming the host and creator of "Small Town Big Deal", Rodney has enjoyed a long career in farm machinery manufacturing and sales, serving as CEO of both McCormick International and Montana, and was instrumental in establishing US operations for Valtra Tractors and in territory management for Long and Mahindra Tractors.
His enthusiasm for the great stories of America comes through on every episode of the show, and it caught the eye of a viewer who felt she had something unique to offer "Small Town Big Deal". Enter Jann Carl – an Emmy Award-winning news reporter, TV show producer and 14-years as an anchor of "Entertainment Tonight" (CBS). And, as it turns out, she has a farm background as well.
To quote Jann, "What Rodney and his team have created is a true celebration of America. It showcases the heritage of our nation, the power of its dreamers, and pays tribute to the unsung heroes. The stories fill us with pride, give us hope, make us laugh, and remind us that national treasures are often found where we least expect them." In addition to hosting, Jann writes and produces some episodes of the show.
Small Town Big Deal officially welcomed Jann as a co-host starting in Season 2 of production. Rodney and Jann continue to criss-cross America, bringing viewers fresh stories of fascinating people, exceptional ideas and good old common sense thinking.
---
Rodney Miller
It's not every day you hear about a leader of the agricultural machinery industry deciding to start his own television show, but that's precisely the Rodney Miller story.
His new show Small Town Big Deal premiered Thursday September 6, 2012 on RFD-TV network, and features Rodney, the man on a mission to shine the spotlight on the cool, interesting, historic and just plain fun things going on in small town America these days.
The world is made of stories, and "Small Town Big Deal", says Rodney, promises to be "an unapologetic celebration of the real-life stories of rural life, of small towns and farming communities and the people, places and events that reflect our values, cherished histories, successes and innovations. In complicated world, some of our best stories are about what we still call character, patriotism, faith and good common sense."
Energy, ideas, enthusiasm and determination have been Rodney Miller's lifetime tools throughout his career in the agriculture industry. Originally from Benton IL, his life has taken him from there to Ocilla GA via Springdale AR and Buford GA.
Rodney has served as the CEO of McCormick International, USA in Duluth, Georgia until May of 2010. McCormick International builds and distributes agricultural tractors for both the full time and rural lifestyle farmer. He had previously been CEO of Montana Tractors, a nationwide distributor of compact tractors and equipment, located in Springdale, Arkansas. The late J.B. Hunt was the majority owner of Montana. Rodney led a team that took Montana Tractors from $2 million in annual revenue to over $80 million in annual revenue in just three years.
Rodney Miller was born and raised on a farm in the Benton, Illinois area, where agriculture was a way of life. He now lives in Ocilla, Georgia with his wife Kendra. They have three children and one granddaughter. He is an avid collector of antique tractors and equipment. Rodney still maintains a 1,000-acre row crop operation in the Benton, Illinois area, and a small operation in Georgia, as well as owning/operating a large corn maze in the Atlanta metro area.
---
Jann Carl
Best known for her 14 years at "Entertainment Tonight", Jann Carl has traded in the red carpets of Hollywood for the backroads of America. She's now criss-crossing America on the nationally syndicated television show, Small Town Big Deal. "This is the show I've been looking for my entire career!" says Jann. Created by her co-host Rodney Miller, Small Town Big Deal shines a spotlight on the fascinating events, places and people from all across the United States.

Jann has built a distinguished career in television.  She began as a news reporter at WLS in Chicago.  Her next move was to Los Angeles, where she reported for KABC, and hosted KABC's "Eye on L.A." magazine show.  Her work in the market culminated in her selection to co-anchor "News At Ten" at KTLA; during her eight-year tenure she earned three Emmys for news coverage.
When the red carpet beckoned, Carl joined "Entertainment Tonight", where she was senior correspondent and weekend anchor. Nationally respected for her interviews, she went on the record with America's biggest stars and most influential newsmakers.  The long list includes Brad Pitt, Oprah Winfrey, Tom Cruise, Julia Roberts, Steven Spielberg, Tom Hanks, Dan Rather, Barack & Michelle Obama and Donald & Melania Trump. She has also co-hosted ABC's "Oscar Countdown" Academy Awards show, the Emmy pre-show, as well as the Tournament of Roses Parade on CBS and HGTV. Jann expanded her television career in 2010 when she was a Co-Executive Producer of the series, SOLD!, for The History Channel.
Carl has been a friend of the Muscular Dystrophy Association for nearly 30 years.  After co-hosting the MDA Labor Day Telethon in Los Angeles for eight years, she was chosen by Jerry Lewis as a national co-host in 1996. Jann remained a national co-host for nearly 20 years.  2012 marked her 17th year on the coast-to-coast broadcast.  She has also served on the national board of directors, and as a national vice president.  MDA has recognized her contributions with the Directors' Award and the Paragon Award.
Jann is a graduate of the University of Missouri's School of Journalism. She says that her favorite and best  title is that of "Mom". She has two children, Katherine and Matthew.