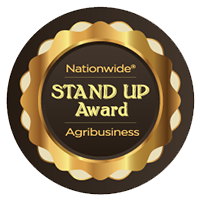 ATLANTA, Ga. (May 2014) – Know someone who has made a big difference in your town or in someone else's life? Nominate them for the Nationwide STAND UP Award.
Nationwide Insurance, the No. 1 farm insurer in America, is partnering with RFD's breakout hit "Small Town Big Deal" to honor the great works of Rural Americans who are working to improve their communities and the lives of those around them. The company is currently seeking individuals through online nominations at www.smalltownbigdeal.com.
The winner will be featured on an episode of "Small Town Big Deal," a television show that tells the stories of America's small towns, full of amazing people and their personal stories of big success, clever innovation, captivating history and just good common sense ideas that truly make a difference in people's lives.
"This is a great partnership, and we are excited to announce the STAND UP award winner at the end of 2014," said Rodney Miller, founder and co-host of "Small Town Big Deal." "There are so many stories out there about people doing great things for others and making their own little slice of America better. But all too often those stories don't get told and those folks doing all the good work don't get the recognition they deserve.
"Here's your chance! Nominate someone for the STAND UP award today and bring some positive attention to your town, highlighting your community and your Stand UP award winner!"
The winner will also receive a STAND UP Award plaque and have $100 donated to a non-profit charity of their choice. And, anyone completing a nomination form, along with the person they are nominating, will receive a Nationwide and "Small Town Big Deal" co-branded hat.
"Small Town Big Deal" is in its fourth season on RFD and has covered stories from Florida to California and everywhere in between. From whiffle ball tournaments to dog sledding, the light-hearted and informative program tells stories that larger news and entertainment programs ignore. Each episode features some friendly banter between the shows co-hosts Miller and Jann Carl.
"Small Town, Big Deal" airs Thursdays at 9:30/8:30 p.m. CST on RFD-TV and Thursdays at 8:30/7:30 p.m. CST, Fridays at 11:30/10:30 a.m. CST and Sundays at 7:00/6:00 a.m. CST on FamilyNet.
The show is also on the CarbonTV.com online video network and can be viewed anytime.
To find out more about the show, visit the website at www.smalltownbigdeal.com and follow them on Facebook (www.facebook.com/smalltownbigdeal).
Be sure to follow Nationwide Agribusiness on Facebook (www.facebook.com/NWAgribusiness) and Twitter (www.twitter.com/NWAgribusiness) for the latest rural safety news and updates.
###
For more information, contact:
Tiffany Fessler
Morton Vardeman & Carlson
770-536-8921
[email protected]
Jeff Butler
Morton Vardeman & Carlson
770-536-8921
[email protected]