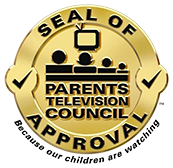 ATLANTA, Ga. (April 2014) – "Small Town Big Deal," one of RFD's newest programs, announced that the Parents Television Council awarded the program the PTC Seal of Approval®.
"All of us at 'Small Town Big Deal' are thrilled to receive this recognition," said Rodney Miller, creator and co-host of the show. "All of the shows on RFD-TV are family friendly, but we hope this award will get the attention of folks that might not be regular viewers to seek us out!"
"Small Town Big Deal" tells the stories of America's small towns, full of amazing people and their personal stories of big success, clever innovation, captivating history and just good common sense ideas that truly make a difference in people's lives.
"Because of its educational yet entertaining content and its emphasis on family-friendly values, the Parents Television Council is proud to award 'Small Town Big Deal' with the PTC Seal of Approval®," said the official review, which can be found on the organization's website at parentstv.org. "The PTC recommends this program for viewers of all ages."
"Small Town Big Deal" is in its third season on RFD and has covered stories from Florida to California and everywhere in between. From whiffle ball tournaments to dog sledding, the light-hearted and informative program tells stories that larger news and entertainment programs ignore.
Each episode features two segments, and some friendly banter between the shows co-hosts.
"It goes to show you that you CAN produce a TV show that is safe and sound for the entire family AND still entertaining," said Jann Carl, co-host and former "Entertainment Tonight" correspondent. "I hope who hasn't discovered us yet will check us out!"
"Small Town, Big Deal" airs Thursdays at 9:30/8:30 p.m. CST on RFD-TV and Thursdays at 8:30/7:30 p.m. CST, Fridays at 11:30/10:30 a.m. CST and Sundays at 7:00/6:00 a.m. CST on FamilyNet. To find out more about the show, visit the website at www.smalltownbigdeal.com and follow them on Facebook (www.facebook.com/smalltownbigdeal) and YouTube (www.youtube.com/smalltownbigdeal).
###
For more information, contact:
Tiffany Fessler
Morton Vardeman & Carlson
770-536-8921
[email protected]
Jeff Butler
Morton Vardeman & Carlson
770-536-8921
[email protected]