Published in the Atlanta Journal Constitution
BUFORD — "I was born a farmer," Rodney Miller is fond of saying. "And I hope to die one."
In between?
Well, he just might be becoming one of your more unlikely television stars.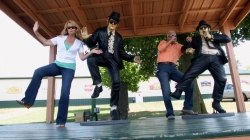 They have no shame … Rodney Miller and Jann Carl strut their stuff with a couple of "Blues Brothers" at the Volo Car Museum in Volo, Ill., while working on a segment for their TV show, "Small Town Big Deal." 
"I went back for my 40th high school reunion," said Miller, 59, a native of little (population: 7,054) Benton, Ill. "People said, 'You're the last one we would've guessed would end up on TV.'"
But he has. After years of nursing an idea for a TV show that would tell "real American stories," the onetime CEO of Duluth-based McCormick International, a global tractor manufacturer, created a production company in 2010 and shot a pilot episode for "Small Town Big Deal." In 2012, cable channel RFD-TV ("Rural America's Most Important Network") picked up the weekly half-hour show, hosted by Miller and featuring segments on things like a Montana hay festival, an annual tug-of-war contest between Iowa and Illinois, and the Wisconsin man who makes those foam rubber cheeseheads worn by Green Bay Packers fanatics.
RFD-TV is the flagship network for Rural Media Group, which includes FamilyNet TV and is distributed to more than 100 million homes worldwide. The show currently airs in the prime 9:30 p.m. Thursday time slot, where it is "one of our top couple ranked shows," said Julie Mankin, vice president of public relations for RFD-TV.
But wait, as they say on TV, there's more! In September, "Small Town Big Deal" went into broadcast syndication while continuing to run on RFD-TV. It currently airs on 147 stations around the country. That includes such logical spots in the "Heartland" as Wichita, Kan., Des Moines, Iowa, and Bismarck, N.D. But also giant urban metropolises like Los Angeles, Las Vegas and Atlanta (where it's seen on WSB-TV, owned by Cox Media Group, parent company of The Atlanta Journal-Constitution).
Even Miller's veteran co-host can't quite fathom this made-for-TV version of David-slays-Goliath.
"Almost all TV now is created and paid for by a network, a major studio or a huge production company," marveled Jann Carl, a former broadcast news anchor and "Entertainment Tonight" correspondent who officially became Miller's on-air partner some 16 episodes in. (They've since gone back and reshot parts of those first episodes with her in them.) "People don't do this anymore. But Rodney's a dreamer and an entrepreneur."
With growth come growing pains, of course. Miller and Carl own the show along with several investors, and they've been working longer hours and paying themselves less as they build up a library of episodes for syndication (right now there are about 70). In New York City, "Small Town Big Deal" currently airs at 5 a.m. on Sundays, because that's the only time slot the station had available. But that's how much WABC-TV wanted it.
"It's so different. it's not this glossy, slick showbizzy kind of show you so often get presented with," said Art Moore, vice president of programming for the powerhouse flagship station of the ABC television network. Viewership currently averages about 26,000, which he called "pretty good" for that time slot, especially for a new show. "It has a sense of Americana, as cliched as that sounds, and in the New York market, I think that's unusual."
The show got a boost both to its bottom line and its image when Chick-fil-A came on board as a corporate partner and sponsor, the Atlanta-based company's first such TV relationship beyond the world of college football.
"That was a tipping point for us," Miller said.
The deal formally started last January, while efforts to syndicate the show were underway. The prospect of possibly being part of something bigger — and of helping to make that happen — was part of the appeal for Chick-fil-A.
"They were very candid and transparent about what they had at the time," said David Salyers, Chick-fil-A vice president for national and regional marketing. "We understood, and we said, 'Let's partner, because we think there's a demand for this kind of show.'"
Indeed, the real attraction was the show's focus on "great people having an impact in their communities," said Salyers, who can't divulge specifics of Chick-fil-A's financial commitment. But he can see some intriguing parallels between "Small Town Big Deal" and big-time college football.
"When we signed up to sponsor what was then the Peach Bowl, it was very second-rate, and now it's one of the playoff bowls," Salyers said about the Chick-fil-A Peach Bowl, which will host a College Football Playoff semifinal game in 2016. "We used that analogy. We said, 'We worked together to grow the bowl game into a national power. Let's try to do the same with the show.'"
Southern California resident Carl stumbled across "Small Town Big Deal" in 2012. Fresh off producing a History Channel series for one season, the Missouri native was so taken with the show's concept that she fired off an email to Miller.
"I wrote, 'You're my hero,'" recalled Carl, whom Miller credits with improving both his on-air performance and the quality of the show's stories. "Who would do this? Who launches what's essentially a good news show in this day and age?"
She thought maybe she could latch on as a producer. But Miller was looking for an experienced co-host, and he persuaded Carl to fly to Georgia for meetings and a screen test.It happened — where else? — at the Buford Corn Maze, which Miller operates each fall on land he owns with friends.
"So we were at the corn maze and ('Small Town' executive producer Roger Mahr) took the camera and we just chatted," Carl chuckled at the memory of that "You're so not in glamorous Hollywood anymore" experience.
The corn maze helps fulfill another longtime Miller dream of starting "an agri-tourism destination." He's had farming in his blood since he started working on his family's 400-acre spread outside Benton (he first drove a tractor at age 9). Four years ago, he and his wife, Kendra, bought a 43-acre farm some 225 miles south of Atlanta in Ocilla. He keeps many of his 30-plus antique tractors there. (They also have an apartment in Gwinnett, near "Small Town's" production facilities.)
It was a job running McCormick that brought Miller to Georgia in 2007. From there, he spent several years in administrative positions at the University of Georgia, including director of the office of advancement and external affairs for the College of Agricultural and Environmental Sciences.
But he hadn't given up on his dream of creating a show. He'd first been bitten by the TV bug while appearing in commercials for another farming machinery company where he'd earlier been CEO. After "going down a few dead-end roads" here, he got to know some people who knew about TV, and "Small Town Big Deal" was born.
As the show has gotten bigger, so has its definition of a "small town." Recent episodes have spent time in Savannah, New York City's Harlem and Nashville, Tenn. What won't ever change, the co-hosts insist, is the "big deal" part — all the extraordinary people and places they keep getting to tell stories about.
"I don't know how many times Jann and I have gone somewhere and said, 'We could live here,'" Miller said contentedly on a gorgeous fall afternoon at his corn maze. "That's our show."
VIEWING OPTIONS
How to see — and even go to sea with — "Small Town Big Deal":
On cable: 9:30 p.m. Thursdays on RFD-TV (episodes repeat at 1:30 a.m. Fridays).
In syndication: 5 p.m. Sundays on WSB-TV (check listings, as airtimes may change). Additionally in Georgia, the show airs on stations in Albany, Augusta, Macon and Savannah. A complete list is available at www.smalltownbigdeal.com.
On a cruise ship: Co-hosts Rodney Miller and Jann Carl will film a special onboard episode of "Small Town Big Deal" during the "First Ever Vintage Tractor Caribbean Cruise." Jan. 10-17, 2016. The Western Caribbean cruise is on Royal Caribbean's Freedom of the Seas. $999 and up. For more information, including a complete list of activities during the cruise, go to www.smalltownbigdeal.com.