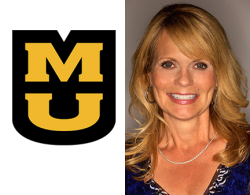 COLUMBIA, Mo. (Nov. 11, 2016) – "Small Town Big Deal" co-host Jann Carl has been recognized by the University of Missouri Alumni Association with its highest honor.
Carl received the Alumni Association's Distinguished Service Award in November at the school's 2016 Faculty-Alumni Awards Ceremony.
Established in 1956, the Distinguished Service Award honors outstanding service by an individual whose sustained efforts and support have added to the excellence of the University of Missouri. Alumni are considered for both their accomplishments in professional life and service to their alma mater.
A 1982 graduate of Missouri's School of Journalism, Carl is a native of Carthage, Mo., and currently lives in Los Angeles.
Carl is well known for her 14 years with the Hollywood news show "Entertainment Tonight" as a correspondent and weekend anchor. Before ET, she built a distinguished career in television journalism at KABC-TV in Los Angeles where she anchored and hosted KABC's "Eye on L.A." magazine show. She also was co-anchor of "News at Ten" at KTLA-TV in Los Angeles where she earned three Emmys.  Her first job as a news reporter was in Chicago on ABC's WLS-TV.
Carl now travels the roads and highways of America as co-host with former CEO and farmer Rodney Miller of the popular TV program "Small Town Big Deal." The show airs on cable network RFD-TV, where it grew into one of that station's most highly rated programs. It now airs in broadcast syndication in the majority of major TV markets and over 150 local stations across the United States.
She is also the founding partner of Yellville Productions, an independent television production company through which she has worked as a co-executive producer. Carl has demonstrated her passion for service as a champion of the Muscular Dystrophy Association for 24 years. For her dedication, MDA has honored Carl with its Directors' Award and Paragon Award.
###